Hayes Meats & Gourmet Foods
A Relaxed Shopping Experience (FREE Beer helps…)
Visit Our Store Today!
Meats, Gourmet Food, and Catering Services
Hayes Meats Testimonials
Real Testimonials from Our Loyal Customers
Established in 1957
A Relaxed Shopping Experience
Hayes Meats & Gourmet Foods has been providing catering services and gourmet food to our loyal customers in Merritt Island, Cocoa, Cocoa Beach, Melbourne, and Brevard County since 1957. At our store you will find the best cuts of meat, including prime grade, which is the highest quality available. You will also find a wide variety of homemade salads, wines from around the world, Champagnes, and imported beers. Our customers feel at home as they enjoy our FREE beer while they browse and sample goodies from our deli.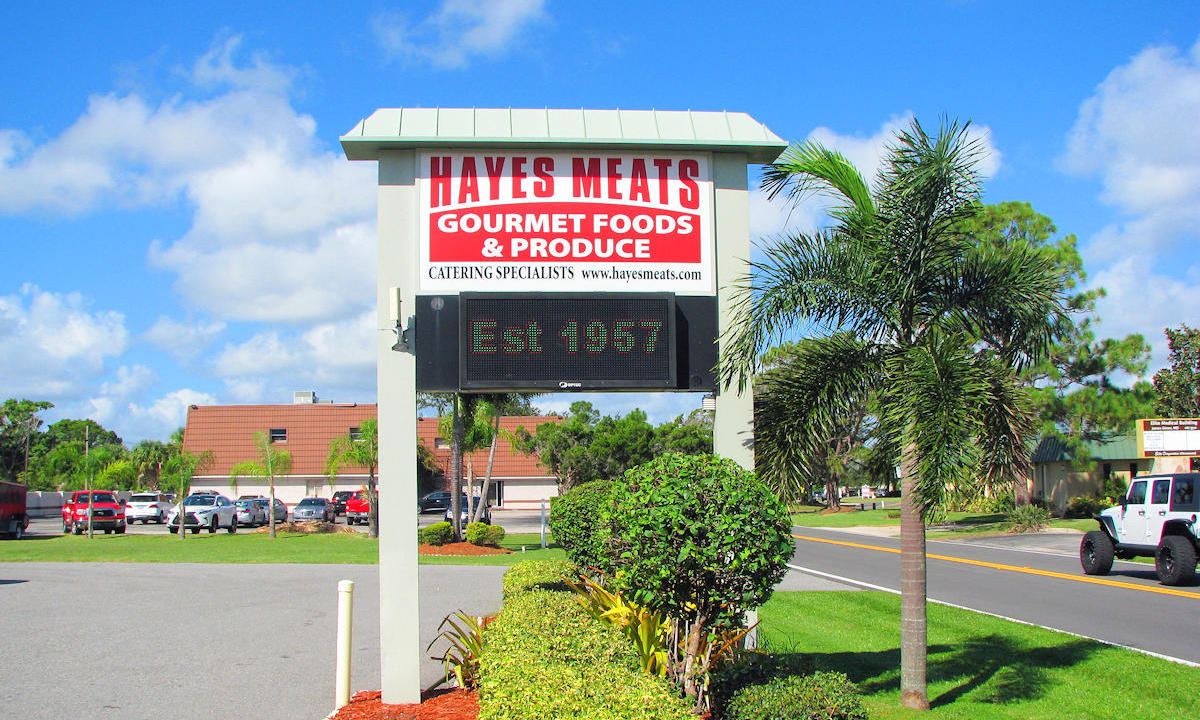 Hayes Meats Virtual Tour
A Virutal Tour of Hayes Meats and Gourmet Foods
Online Shopping
Shop online and we will email pu date and call you if it's done earlier. We under promise and over deliver. Due to covid-19 there may be 3-5 day wait on some orders.
Secure Payments
We offer a safe and secure online shopping experience.
100% Satisfaction
Let us know if you have any problems with your order.
Friendly Support
Customer service is available via phone or email.
Best Selling Products
Our Customers Love These Items
Catering Services
Parties, Events, and Special Occasions
Hayes Meats & Gourmet Foods specializes in catering Parties, Weddings, Funerals, and Corporate Events. We can serve a variety of venues from an intimate 'Romantic Dinner for Two,' to a 1000 person corporate function. If you need help planning your event just call Gem or Connie at (321) 453-3550 for assistance.
Gourmet Home Meals
Prepared Home Meals for Busy Families
A new trend is developing in the gourmet foods industry, the home meal replacement concept. Busy working families would like to eat a gourmet meal in the comfort of their home but don't want to pay restaurant prices. They then discover our unique store. We deliver cooked gourmet meals or fresh groceries to your home.
Customer Satisfaction
We Have a Friendly and Helpful Staff
Hayes Meats & Gourmet Foods has won the Better Business Awards in the past years. Gem says, "Everybody who works here SMILES. We pride ourselves on customer satisfaction and superb food quality. Our service is second to none!" His wife, Connie agrees, adding, "Our awesome staff will ALWAYS go the extra mile to make sure you walk out happy." "Service & Food Quality is why I come here," says one loyal customer, Bob Jankowski. "I'd pay more to get this service, but your prices are very reasonable," says Jankowski.
@

HayesMeats

Follow us on Facebook & Twitter